Let's start with the basics, what is brand voice?
Think of it as an individualization of your brand – a brand voice consists of an overall uniformity when it comes to the tone, attitude, choice of words and company values that are used when presenting your brand to an audience.
The basics of integrated communications marketing tells us that a brand should be cohesive throughout all platforms, channels and types of media. Thus, when communicating a message, your company should approach a corporate letter, a printed ad, its social media channels and even its customer service division with the same personality, attitude and diction.
From our experience in working with both local and international brands, we've noticed that companies which focus on building a strong brand voice are rewarded with exceptional customer affinity by people who naturally become your brand ambassadors as they totally align themselves with your core values and the way in which you are delivering messages to your niche.
A quick way to delve into your company's brand voice is by answering these simple questions:
What is you mission statement? This is always a good starting point for developing the values on which you will base your brand voice.
Which adjective best describes your brand's personality? – build the rest of your strategy around this single word. Some examples could be for instance; adventurous, cool, formal, professional, flirty, edgy, goofy etc…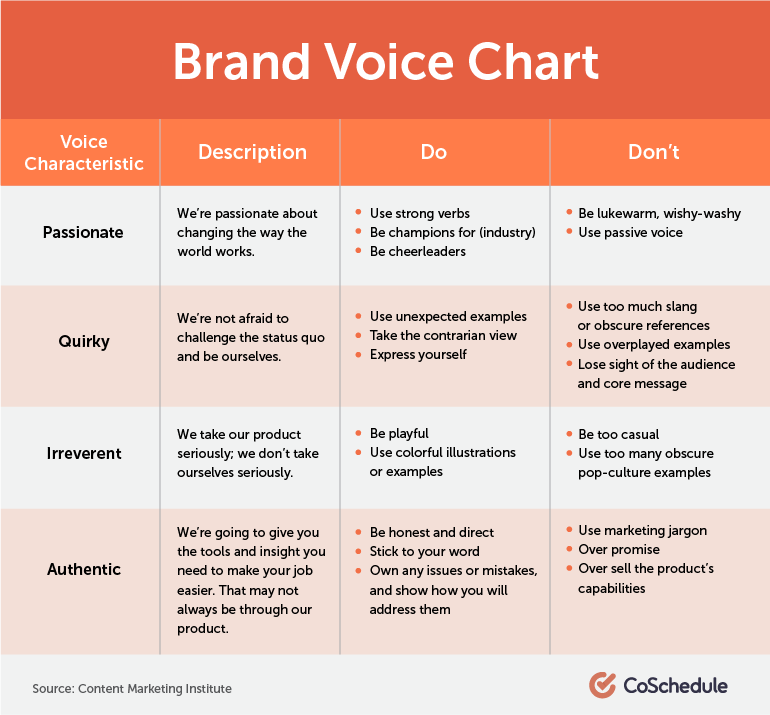 Does the nature of your brand require formality? – do you need to sound like an authority when spoken to or could you do with a less formal approach? Examples of this could be those working the medical, law and other professional consultancies versus for instance a photographer, local pub or a barber.
Does your brand resonate with your audience? If you don't already know your audience, this should be your first port of call. You should be able to not only know the demographics of your current and target audiences, such as ages, locations and genders bias, but also a more in-depth knowledge about their preferences, hobbies, loves, affinities & behaviors. If your brand voice doesn't match your audience, you can never build a real relationship with them.
When it comes to social media:
We all know that marketing on social media is not as straight forward as it seems. From years of experience, we've seen countless businesses that launch a Facebook page, post a couple of product listings and then give up due to the lack of engagement, leads and return on investment.
One of the core problems in this approach is that your focus in that instance is on selling or promoting your products and services when in reality it should revolve around educating, entertaining and interacting with your audience. Brand voice plays a big role in all of this. A recent study by sprout social showed that the most common attitudes that customers expect from a brand on Facebook are:
Honesty
Friendliness
Helpfulness
A fun approach
Overselling is particularly dangerous in this case. Your brand should focus on delivering an experience. In general, we tend to recommend that no more than 20% of content be promotional, however this will vary depending on industry and audience. Doing this, you risk generating a spike in unsubscribers whilst noting a drop in engagement figures. From working with different brands on all of the most common platforms, we've noticed that over time, the social media algorithm will devalue the quality of your content and show it to less and less of your audience organically.
A well-executed Content strategy can make all of the difference. As social media has taken away the ability to read customers instantaneously, it's evermore important to produce quality content, use the correct brand voice, post at the right times and analyse all of this on a frequent basis.
Whatever your intentions are for social media, keep in mind that it's called "social" media for a reason!
Brand voice and the customer journey
These two topics have historically always been intertwined and with good reason. Any customer or client that interacts with your business will go through various touch points along their consumer journey. Our history of working with brand has shown us that from product discovery in the awareness stage, to initial contact in the consideration stage, right through to their purchase decision, aftersales and customer services. Every Touch point that the client goes through should be integrated into a cohesive brand voice and corporate identity – your Facebook Messenger responses, your Website copy, your Corporate Profile.
Stay tuned for our upcoming blogs – one being all about the very topic of Mapping Customer Journeys and Touch Points using the best tools out there right now.
Meanwhile, feel free to shoot us your questions if you need any help along your journey.