The brief
Navigating digital opportunities of our ferry operator
Gozo Channel, the main ferry operator between Malta and Gozo provides a vital service for commuters, tourists and shipped goods travelling from one island to the other. As one of Malta's leading maritime businesses, they ferry over 4.1 million passengers a year. The ferry operator's website wasn't delivering, customers were unable to easily access trip information and so their switchboard was getting inundated with customer calls of frustrated travelers who were wasting unnecessary time in queues. Now, Gozo Channel commissioned Keen's designers and developers to revamp their website and produce the revolutionary user-centric mobile app 'Gozo Channel'.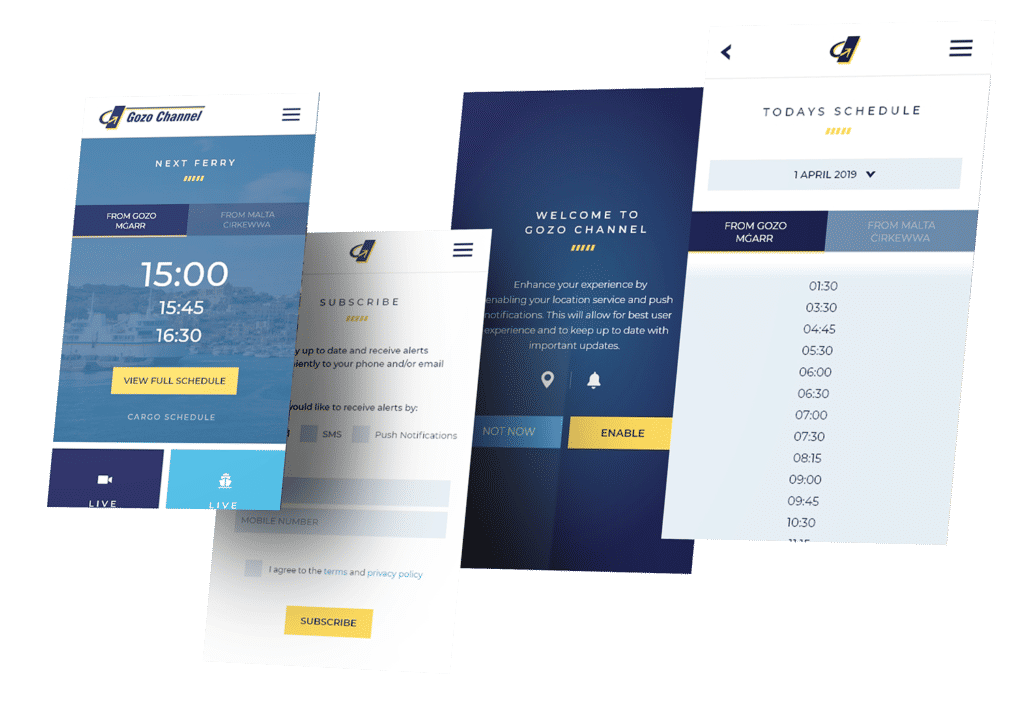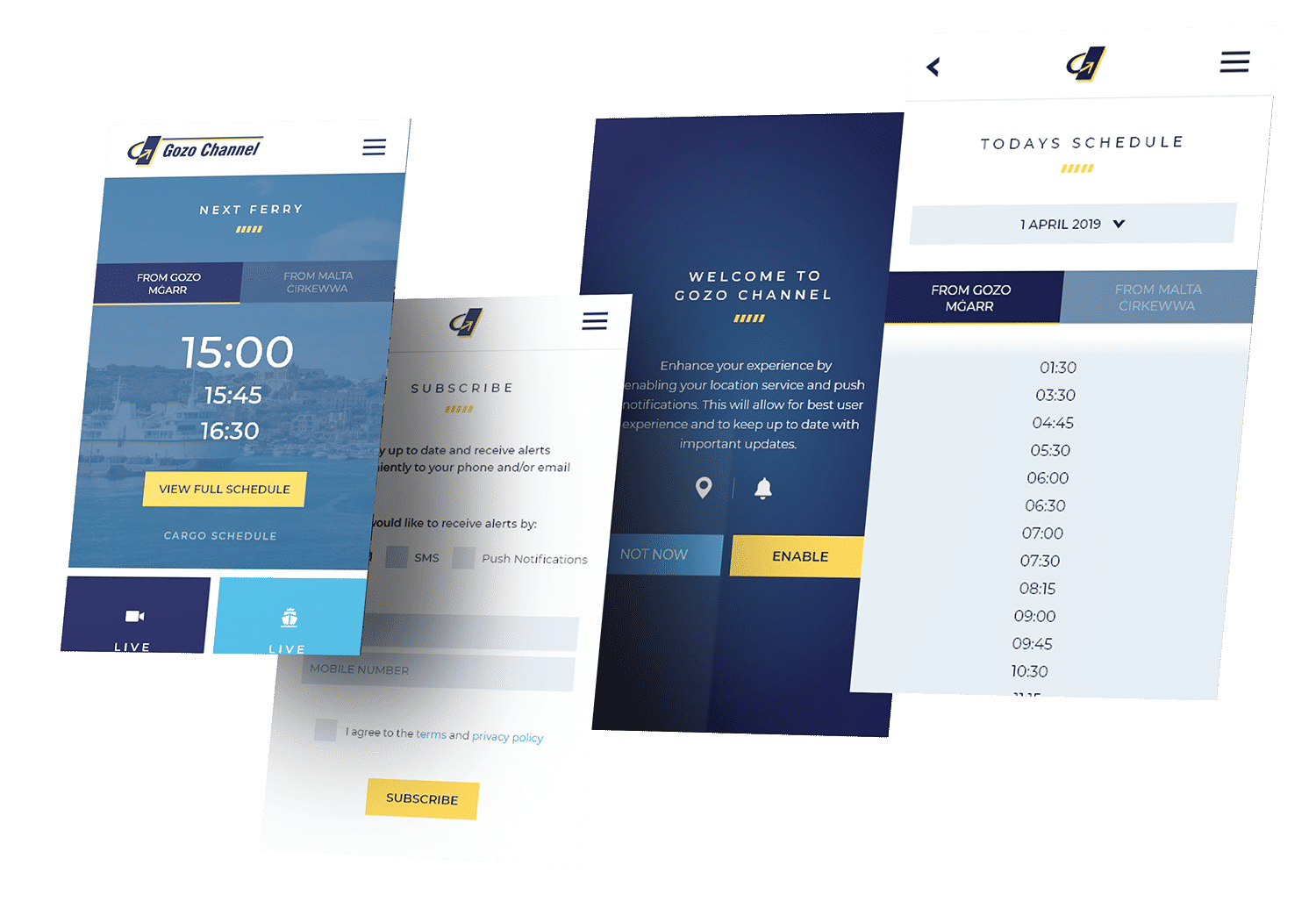 The challenge
Mapping out travelers needs
The Gozo Channel website needed a revolutionary overhaul; putting customers travel needs at the forefront. Nowadays, it is evident to provide mobile technology with access to live information at a fingertip, ferry crossings, schedules, traffic congestion and weather disruption. Demand for the ferry service is constantly growing and so are customers' expectations. Important data had to be made available in real-time, presented in a user-oriented way to assure a quick and easy navigation and facilitate notification enabling users to better plan their journey.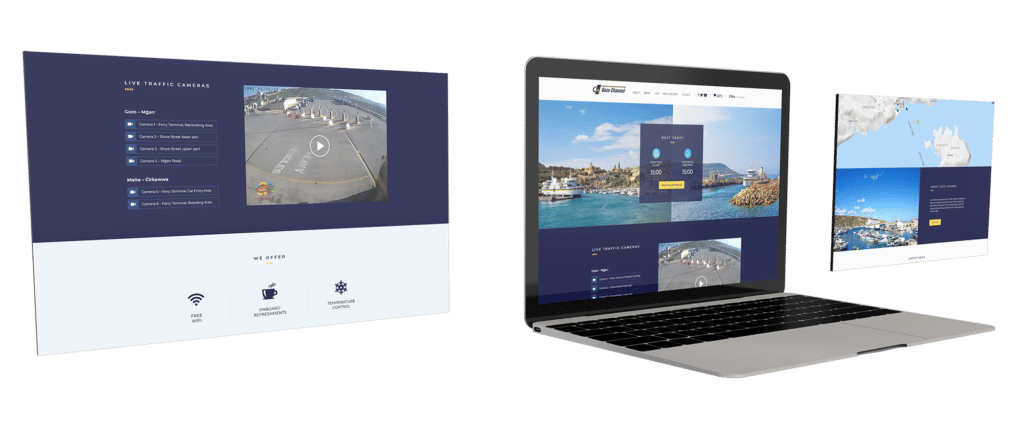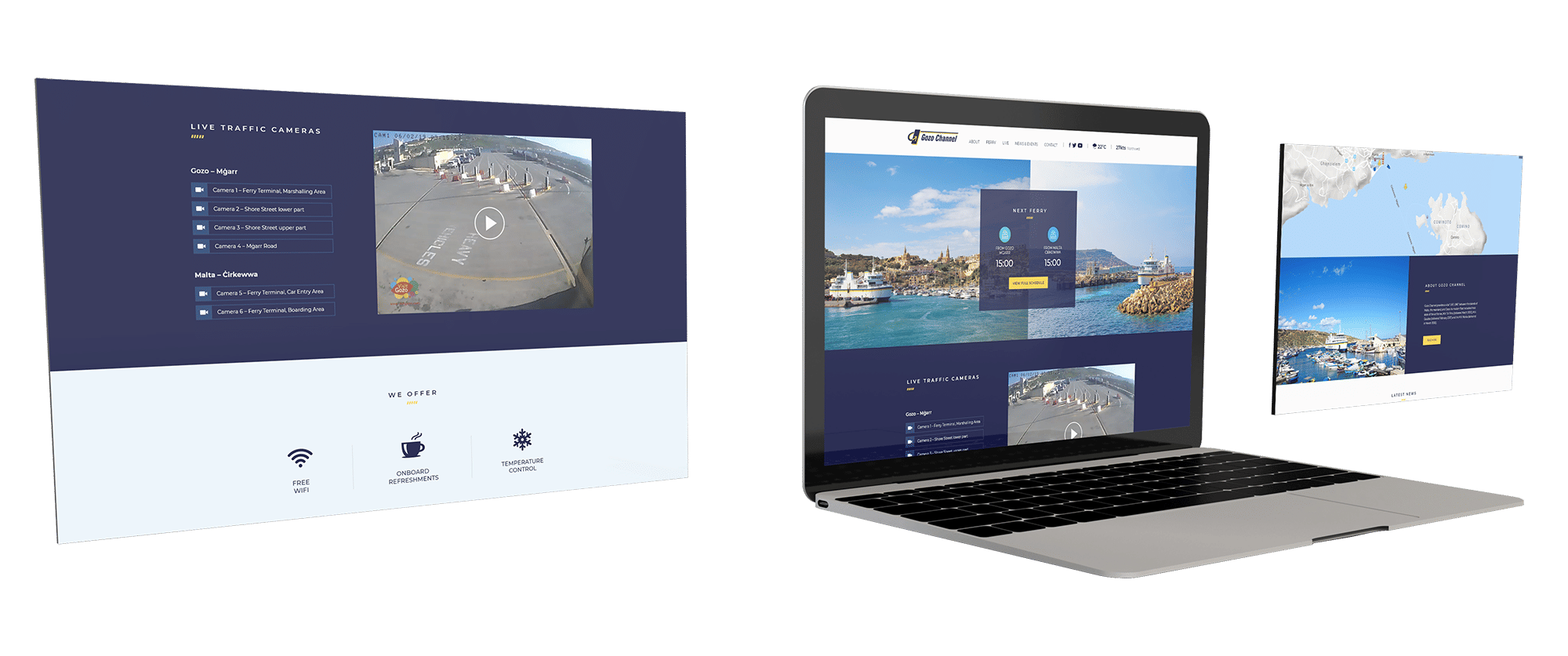 The strategy
Streamlining users virtual and physical journey
Our market research team had to scrutinize the existing website looking for accessibility of information, user flows, loading speed, functionalities to compare these against the demands of the users. Our aim was to determine the most useful, relevant information travelers require and implement ways of making this immediately available via the site and mobile app, i.e. ferry schedules, updates on waiting times and any traffic issues affecting the route into the port. We took a step back, looked beyond our Islands and researched international peers before starting to craft our new digital solutions.
STEP 01
Offsetting congestion using live cameras.
Keen's developers integrated a LIVE PORT CAM onto the website, giving users the opportunity to watch 4 live traffic feeds based around the port's entrance and exit. Customers can view the current situation; saving them time and alleviating future congestion.
STEP 02
Using GPS for instant updates.
Keen's tech team embedded a responsive aerial map on the website which shows the waters between Malta and Gozo. It tracks the four ferries in real time via GPS, so the user can watch the ferries progressing across the channel, helping them to determine realistic time frames.
STEP 03
Push notifications at best use!
Streamlining the website to make fleet timetables easily accessible, we also introduced a Top Alert Banner for when services were experiencing disruption. This alert activates an instant push notification to the mobile app, so that users on the move receive updates directly via their smartphones.
The Execution
Accessibility, use-ability and accountability
Keen's designers and developers prioritized essential travel information; creating a clean web design which is easy to navigate through, responsive and mobile friendly whilst providing real-time data for utmost travel convenience.
We put our mind to Gozo channel's free travel app that lets customers on the go easily access schedules and current details of operation. Our tech team developed the application in such a way that it geo-locates and notifies them of the next available ferry at departure terminal. The app has the added advantage of alerting users instantly of any changes or problems relative to the ferry operation via a push notification system.
The result
Plain sailing ahead!
Gozo Channel's relaunch of their website and the launch of their mobile app struck a chord with the target audience. The company can now focus on running their ferry service more efficiently, users feel better informed and the traffic around the port is less congested – a win across all stakeholders. Happier clients, happier employees and smoother operation reinforce the desired brand perception and brand positioning.
More from us
RELATED CASE STUDIES