Whoop Whoop, we can't be more thrilled to have started the new year with a bang. Once again our team of passionate creatives, single-minded campaign experts and data lovers are celebrating this wonderful recognition for our impactful campaign results in 2021.
The Ad World Masters Agency Reward is awarded based on an analytical review of campaign results delivered through an algorithm.
"The Agency Score helps you clearly and quickly identify an agency's potential without the hassle of comparing them by letting our algorithms do the work." so the Ad World Masters Agency.

Following the evaluation of all campaigns running in 2021, data of over 11,900 agencies was processed and assessed to announce industry leaders that strive with creative concepts and measurable results for their clients and partners.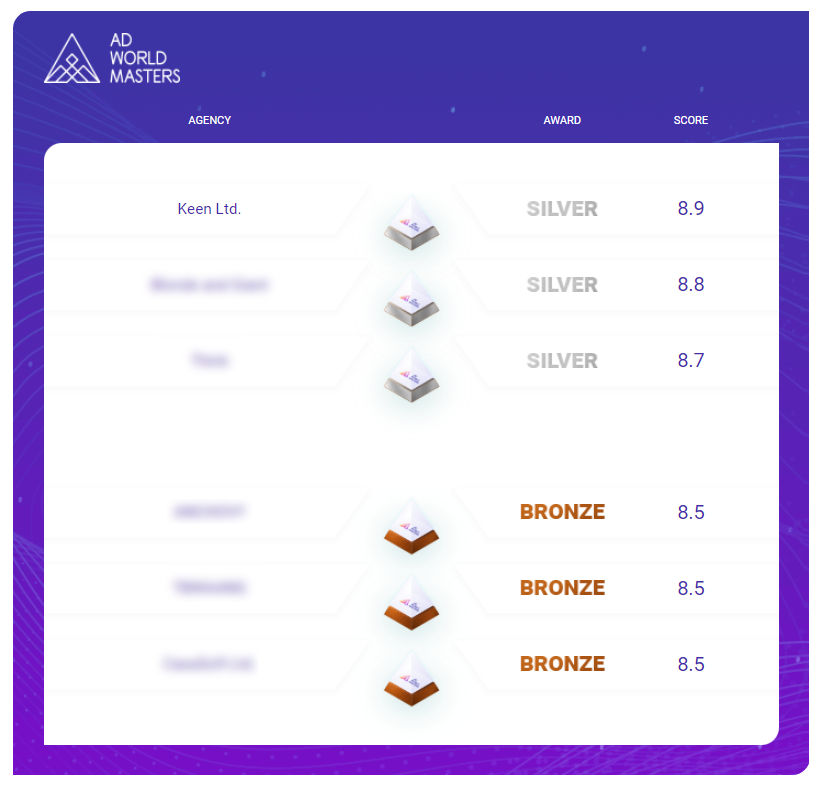 Keen Limited has brought the trophy home once again for Malta, by achieving the highest score amongst its competitors with a recognisable 8.9. Supporting clients and partners in Malta and beyond since 2006, Keen has become one of the leading Digital Marketing Agencies, particularly renowned for its effective Search Engine Optimisation and Digital PR work.
We, at Keen, are proud to have supported and fueled the communication of dozens of brands across platforms including web, mobile, social and broadcast. Our agency has serviced key business sectors including transport, tourism, retail, real estate, pharmaceutical, telecommunications, hospitality, solar, science, charity, education, automotive, agricultural and professional services, including e-commerce, amongst others.
"We are thrilled that our talented team has once again been recognised for their outstanding work and results. We put great emphasis on creative concepts and applying novel strategies that empower our clients to stand out in their competitive markets, spark conversations and score on their bottom line." so Keen's Director Carolin Hyzyk.

Our service portfolio at Keen, embraces research and strategy covering branding and digital product design and development up to digital growth strategies and PR.
---
The official announcement on Ad World Masters can be found here.