The brief
Boosting brand positioning and footfall
Operating in a busy retail environment, The Duke Shopping Mall works with Keen's marketeers to devise, plan and execute their all year round marketing strategy, creating customer focused promotions which resonate with the target audience, increase footfall in the mall and generally help The Duke Shopping Mall stay a step ahead of their competition. We initiate seasonal campaigns and coordinate bespoke events marketed effectively through digital media and complementing offline channels.
The challenge
Creating that 'must-do' Christmas activity
The Duke Shopping Mall asked us to create a unique Christmas initiative that was out of the ordinary, to get the local audience talking and walking to participate. Aiming to create a crowd-puller experience, the target was to ultimately increase the festive footfall, prompting families to enjoy Christmas Shopping at The Duke.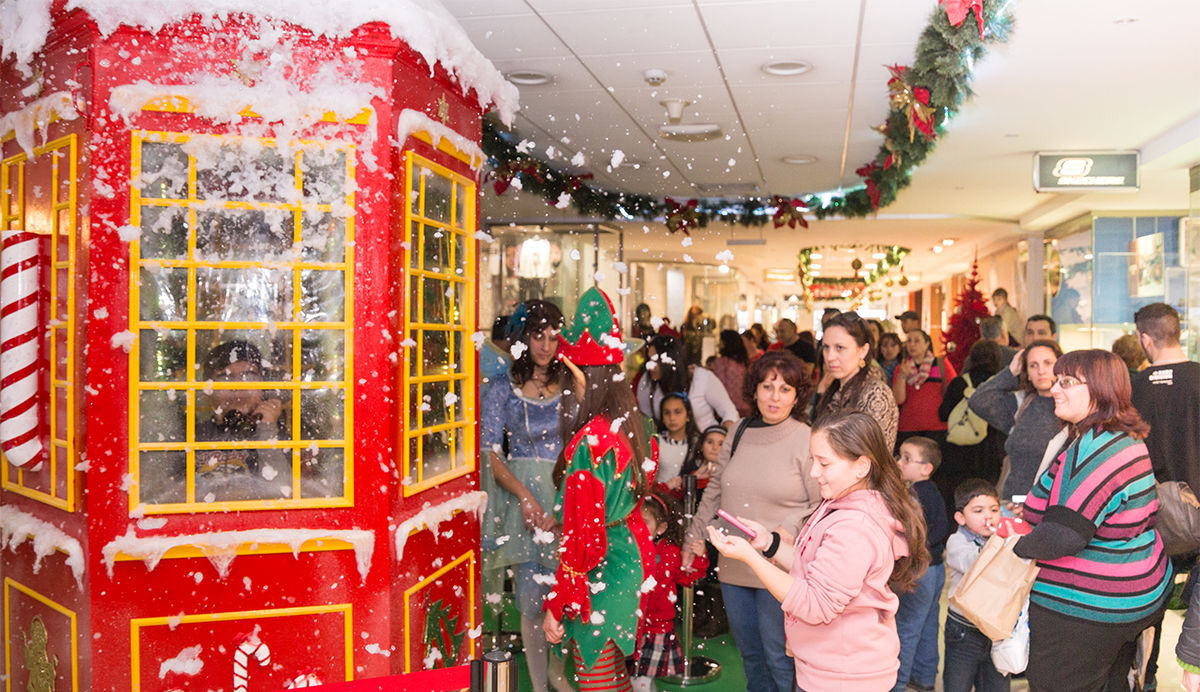 Christmas Booth Initiative
The strategy
Formulating this festive experience.
Our team extensively researched the local target market and investigated into successful festive campaign promotions, to better understand the needs and wants of families during Christmas time. Following numerous brainstorming sessions and various concept developments, finally, the idea was born – 'Santa's Booth' a festive telephone booth for young children who could talk directly to Santa.
Our team then created a workable method to strategically plan how this activity was going to unfold, to initiate an early buzz and start building interest from the outset. It was a first for Gozo, a remarkable experience for children giving them a hotline directly to Santa. This didn't involve a huge outlay for the shopping centre, no elaborate Grotto to be built and yet it would attain the ultimate goal of driving more visitors to the Mall for their Christmas Shopping whilst adding value to the brand and its standing in the market.
STEP 01
Unwrapping those Christmas Ideas.
Creative minds are fuelled by thorough research, putting their heads together and hopping out of the box to come up with a unique idea and concept that delivers the desired targets effectively.
STEP 02
Setting out our Santa strategy.
Our team got planning on how to produce, set up and operate the booth with some special add-ons for our little audience to be wowed. As the tracks were set, we put our mind to the strategic promotion of our project.
STEP 03
Spreading that jolly seasonal buzz.
With great excitement, our team tested and brought this special Christmas initiative to life. We were onsite, observing reactions, analysing footfall and enhancing promotional efforts throughout the campaign.
The Execution
Making the 'magic' happen
Keen's creatives designed the look, style and functionality of the booth co-ordinating the build from day one. The booth, offered an authentic Santa hotline for children – but incorporated modern technology and video cameras to assist the execution. Our team auditioned and training the winning Santa Claus whilst being able to monitor progress and take note of any technical adjustments necessary once the booth was up and running. Promotional content, such as photos and a video featuring Santa Claus and one of his Elves were produced to promote the booth, forming part of our early marketing efforts using offline and online marketing channels. Proceeds from the use of the Photo Booth raised money for Puttinu Cares, a local charity supporting children with cancer and their families.
The result
Ho-Ho-Ho – A great Success!
Santa's Booth was initially launched during Christmas 2014, with hundreds of happy children faces using the booth and a constant increase in the following years. Additionally, the Santa's Booth generated lots of free, positive media coverage, and was acknowledged as a fun activity for families to take part in over Christmas-time in Gozo.
250 children
experienced the magic in 14hrs
52% footfall
increase at the shopping mall
€650 donation
collected to Puttinu Cares
Testimonial
WHAT OUR CLIENT HAS TO SAY
The Duke Shopping Mall has had a strong relationship with Keen for over 10 years now. Over the years we have developed a great and fruitful relationship with them. The dedication shown by Keen is evident through the various successful campaigns we engaged them in throughout the years. Keen's guidance and input for marketing strategies and implementation demonstrates a high level of knowledge and expertise in a 360 degree digital sphere. Service delivery is truly exceptional with meticulous attention to detail and punctuality even when given a last minute job! We look forward to more years of working together!
SHARON SCERRI, COMPLEX ADMINISTRATION MANAGER
More from us
RELATED CASE STUDIES